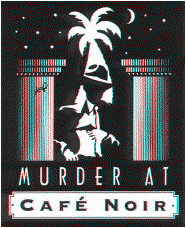 A Murder To Go Production of a David Landau Film
MURDER AT CAFE NOIR, the award winning, most popular comedy mystery dinner theater play in the US, is becoming an interactive DVD feature film. Produced by Murder To Go, the internationally acclaimed originator of the interactive mystery theater show, the rough cut was an official selection of the AngiliCiti Film Festival in Los Angeles and Los Vegas in 2000. Shot on High Definition video, the feature is now in the fine cut stage. MTG is seeking investors and/or producing partners to finish the project and begin distribution.
"Murder at Cafe Noir" is an off-beat mystery homage to the Bogart movies, but also a genuine mystery which breaks the "fourth wall" that takes full advantage of DVD capabilities and challenges the audience to solve the crime. Disenchanted Private Eye Rick Archer, hired to find a blackmailing femme fatale, finds himself on a forgotten tropical island and the mysterious Cafe Noir, a place where the dishonest can be honest about it and where everyone and everything seems to have fallen out of a 1940s movie, including the color. It is here that he finally finds a place where he truly belongs. Guided by a sarcastic Humphrey Bogart narrator, the viewer helps Rick by deciding where he goes and who to question.
"Murder at Cafe Noir" continues to be the most widely produced mystery dinner theater play in the country, with over 5,000 performances in over fifty cities attended by over 500,000 people. Since 1989 when the show first opened in Boston, there hasn't been a single weekend when "Murder at Cafe Noir" wasn't performed within the US. It won the Orange Coast Magazine award for Best Dinner Theater in 1991 and has been published by Samuel French. It has been so popular that the play has generated two widely successfully produced sequels "Noir Suspicions" and "Noir Point Blank".
Producer/Director David Landau adapted the screenplay version from his own play. A member of the Dramatists Guild and the Mystery Writers of America, Mr. Landau has been writing, producing and directing theater since 1982 when he created Murder To Go Productions, the world's first interactive theater company. Mr. Landau received the Blackburn Award for Excellence in Playwriting for his romantic comedy "Deep Six Holiday" which has been produced in various regional theaters and his comedy thriller screenplay "Killing Mr. Withers" was a finalist in the 1999 Nevada State Screenplay Competition. His supernatural comedy feature "Séance" has been optioned by Susan Aronson of Allegra Films and his ten minute mystery "Joker's Wild" was produced by Mallinson Media for A&E's Short Subjects.
MURDER TO GO PRODUCTIONS recently expanded from theatrical entertainment to include video with the completion of "Stab in the Dark" - written and directed by David Landau and produced by Matt Clarke. "Stab" is an interactive DVD mystery game, produced in association with Clarke Communications.
For more information, to view a fine cut copy or to become a producing partner contact Murder To Go Productions at (888) 301-CLUE.