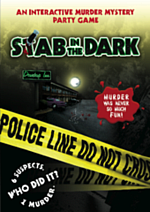 Left_Menu
INTERACTIVE MURDER MYSTERY SCRIPTS FOR HIRE

tel: (973) 301-0121
Scripts, Contracts & Royalty Payments
---
Bullets For Broadway
To pay using PAY-PAL click the Add To Cart Button
or call (973) 301-0121
TO PURCHASE COPIES OF THE PRINTED SCRIPT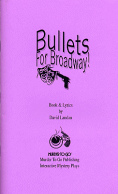 A New Musical Comedy Mystery Spoof!
"
"It's the Altos meet the Producers!"
Tony & Toffee Alto are back, by popular demand. This time, Toffee wants to be a Broadway star and Tony needs to "clean" some money. So he hires two producers to mount a hit musical - "The Mafia Queen" - starring Toffee. The only catch - the show must be sold out opening night and get great reviews, no matter what it costs - or else! Leave it to Baxter Mallystock and his playwright partner Eli Blain. You're invited to the party after opening night to revile as the reviews come in, along with the FBI and a few stray bullets. It's a brand new evening of Mystery, Comedy, Music and great Food which just goes to prove that sometimes when people say they're going to make a hit, they mean it!
Bullets For Broadway
3 men, 3 women
Songs: Opening night
Mafia Queen
You and Me
Have to Pay the Bill
Broadway

Printed Script: $9.95 ea

TO PURCHASE A CONTRACT
I wish to have a contract made out to and sent to me.
I wish to pay the advance royalty for the first 2 performances : $175.00

OR...If you ALREADY have a contract
and wish to pay for additional performances @ $75.00 ea.
*Fill in the number of performances in the Qty. box
after clicking the add to cart button
IMPORTANT: PLEASE PROVIDE THE FOLLOWING PERFORMANCE INFORMATION IN THE COMMENT BOX PROVIDED DURING THE CHECK OUT PROCESS:
The Producing Organization
Opening & Closing Dates
Expected # of performances
Location of Performance
PURCHASE THE MUSIC CD
Bullets For Broadway @ $12.00 ea

Standard Shipping & Handling Charges apply
To RUSH THIS ORDER is an additional $25