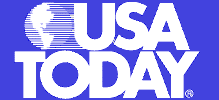 Like a little murder with tea?
(September 21, 1983)

Here's a sure-fire way to spice up your next soiree: Serve a little murder with the caviar and Dom Perignon.

For about $2,000, Murder To Go Inc. in New York will stage a particpatory slaying at your next social event.

The brainchild of screen writer David Landau, Murder To Go will sprinkle its cast of inconspicuous characters among your party guests, stage a fake shooting, and even supply a police inspector to interrogate suspects and unmask the criminal. The rest is up to the host, who is charged with keeping a straight face during the highly secretive scam.

And if homicide makes you hungry, the company also will cater the evening repast.

Landau has taken his brand of catered homicide on private train trips and is fine-tuning a Halloween murder-mystery weekend in a Victorian hotel in Cape May, N.J.

Each of 50 people will pay $250 to work together to solve a crime and buried treasure hidden by the marketers of Capt. Morgan's spiced rum.

Although they often are eager to get involved, some weekend detectives get squeamish over the thought of a shootout.

Said one woman planning to attend the Halloween massacre: "Try not to make it too bloody. We don't mind seeing it on TV, but we don't really want to see it in real life."