INTERACTIVE MURDER MYSTERY SCRIPTS FOR HIRE

tel: (973) 301-0121
Scripts, Contracts & Royalty Payments
---
Spirit Of Suspicions
To pay using PAY-PAL click the Add To Cart Button
or call (973) 301-0121
TO PURCHASE COPIES OF THE PRINTED SCRIPT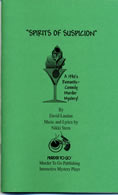 Spirit Of Suspicions
A comic tribute to the THIN MAN movies. Dick and Dora Charles are invited to a seance at the Top Hat Club, owned by Dick' s old friend Bunny. Bunny wants to contact her murdered husband, Rocky - a gangster who supposedly hid a million dollars somewhere in the club.
But the seance goes awry as a female patron of the club becomes possessed by both Rocky and the female singer who was murdered along with him. Dick and DOra face off to see who can be the first to solve who killed Rocky and where the missing million dollars is in this 1940's mystery.
(Comic mystery: 3-men, 3-Women Songs: "Kindred Spirits ", "Blame The Lawyers "
Printed Script: $9.95 ea
Licensing Information
TO PURCHASE A CONTRACT
I wish to have a contract made out to and sent to me.
I wish to pay the advance royalty for 2 performances: $175.00 ea

OR...If you ALREADY have a contract
and wish to pay for additional performances @ $70.ea.
*Fill in the number of performances in the Qty. box
after clicking the add to cart button
IMPORTANT: PLEASE PROVIDE THE FOLLOWING PERFORMANCE INFORMATION IN THE COMMENT BOX PROVIDED DURING THE CHECK OUT PROCESS:
The Producing Organization
Opening & Closing Dates
Expected # of performances
Location of Performance
PURCHASE THE MUSIC CD
Music CD - Spirit Of Suspicions: $12.00 ea

Standard Shipping & Handling Charges apply
To RUSH THIS ORDER is an additional $25